Article originally appeared August 5th, 2001 in the
Dominion Post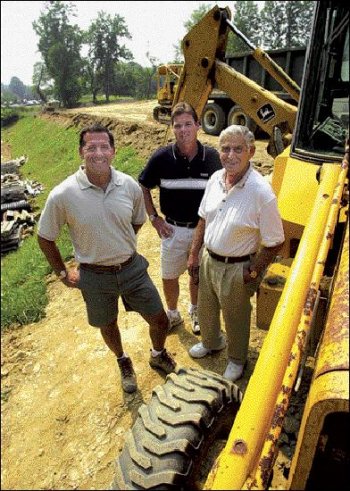 Modest concerning the countless construction projects he's completed during his 40-yeear career, contractor Carmen Gutta Sr. enthusiastically discusses work undertaken by his two sons, Carmen Jr. and Scott, including their new Windwood Place premium apartment complex on Van Voorhis Road.
"When you're a kid, you start off with Tonka toys," Carmen Gutta Jr. said of his decision to follow his father, Carmen Gutta Sr., into the residential development and contracting business.
"But you see your dad using the real thing and that looks like even more fun," Carmen Jr. said, laughing.
Winding down a 40-year career constructing homes and developing commercial and residential property primarily in Morgantown's Suncrest and Evansdale areas, Carmen Sr. frequently lends his expertise to projects undertaken by C&S Construction LLC, the firm operated by Carmen Jr. and his brother Scott.
The elder Gutta began his career as a residential developer and contractor in 1960 working with his older brother Frank developing the Virginia Manor section of Suncrest. He continued building spec homes, a few custom homes and the occasional Dairy Mart through the 1960s.
With the Gutta sons assisting, Carmen Sr. completed the first of seven buildings forming the Hampton Center professional complex by the mid-'80s. Although the Guttas have sold several of the Hampton Center buildings, the complex's highly desirable location has kept occupancy rates high.In 1971, he built Bon Vista apartments on Ste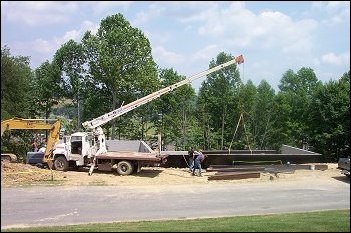 wartstown Road near the W.Va. 705 intersection. Gutta continued developing the area through the early '80s with the construction of Cedarwood town homes and the Cedar Ridge subdivision in the early '80s.
Carmen Gutta Sr. discusses his life's work reluctantly: Carmen Jr. fills in the gaps and reminds his dad of projects the modest senior Gutta doesn't consider worth mentioning: constructing spec homes in Hilton Head, N.C.; completing a 120-unit apartment complex in Reading, Pa.; building residences in the Uniontown area; and designing and building "The Chalet," originally a small restaurant, now space incorporated into the Sanders Floorcovering showroom on University Avenue in Evansdale.
"The story is what the boys have going on now here on Van Voorhis and what they've got planned for the future," he said modestly. "The stuff I've built isn't the story. I've just kept busy over the years."
"The thing about my dad is that my brother and I think he's a genius," Carmen Jr. said. "He's a slave to quality, and he really doesn't like to be bored.
"In West Virginia, building slows down in the winter," he continued, "and I remember when we were kids my dad would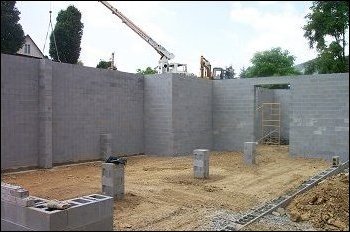 use those bad-weather months to plan upcoming projects. He'd buy big sheets of Styrofoam and carve and buildsite contours and elevations to plan the site work he'd do in the spring. He'd also build scale models out of balsa wood of buildings he planned to construct and place them 'on-site' on the Styrofoam 'parcel.'
"Even today he tells us, when we're trying to figure how we're going to make the best use of a piece of property, not to hire fancy consultants and engineers. 'Walk it,' he tells us, 'and then go walk it again.' And he's right."
The Gutta sons bought the Van Voorhis property in 1993, completed site preparation in late summer 1994, and sold the first of 36 completed town home units in August 1995. With the Guttas holding two units as rentals and one as a model, all others quickly found owners and construction of additional units is planned.Carmen Jr. and Scott Gutta have walked their current project, a 14-acre parcel on Van Voorhis Road, hundreds of times as they've designed and constructed Windwood Village Townhomes a scant half-mile from Suncrest's busy Van Voorhis/Chestnut Ridge Road business hub. Carmen Jr., his wife Karen, and their three kids live in one of the 2,000-square-foot town homes themselves. C&S Construction's offices occupy the ground-level of a three-floor 6,000-square-foot office building on the site, the top two floors housing a medical practice.
"Many Windwood Village residents are single professionals employed at WVU Hospitals or the law school," Carmen Jr. explained, "and several units already have changed hands once or twice. Those that sold new for $150,000 five years ago are selling for around $170,000 today."
Scott and Carmen Jr. have started site prep for Windwood Place a cluster of four three-level, six-unit apartments on the 5-acre flat above Windwood Village. The typical 1,000-square-foot-plus floor plan includes two bedroms, two baths, kitchen/dining/living area in a great room configuration, laundry room and covered patio. Amenities on the surrounding grounds will include covered parking areas, a permanent walking trail, plenty of green space and a picnic pavilion. Carmen Jr. anticipates the apartments will be ready for their first occupants in about a year and will rent for $850 to $920 monthly.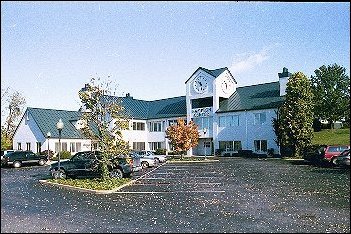 "Windwood Place will offer premium apartment homes right for more transient young professionals and also for empty-nesters," Carmen Jr. said.
"I remember working for my dad at Bon Vista one summer when I was just a kid," Carmen Jr. recalled. "For some reason, a friend of mine and I had to hand dig all the way around one of the foundations."Walking their 14 acres (and walking them again, per Carmen Sr.'s instructions), the Gutta sons have identified space on the site that eventually may accommodate 25 additional town homes. Smaller than those in Windwood Village, these units will be offered as rentals. However, their construction is on the back burner until the Windwood Place project is up and running.
Although Carmen Sr. said he didn't recollect that specific phase of the Bon Vista construction project, he smiled when his son added, "Hard to believe, but we had a great time doing it."
And from Carmen Jr.'s apparent enthusiasm for the Windwood Village/Windwood Place project, the Gutta boys are still having a great time following their father's career path.